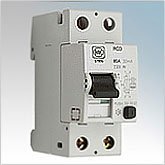 RCD Testing (residual current device)
Tests found that fixed RDC's are about 97% reliable. This improves if they are tested regularly. If you have fixed RCD protection, it will reduce the risk of elecric shock to you and your family. It can also protect your home against the risk of fire caused by faulty wiring.
For a small fixed fee, we can inspect & test these devices to make sure they're functioning properly. Call today on 07985 693 540 for a quote.